Introduction to CustomerHub
Transform your Shopify store's customer account page with CustomerHub. Offering more than just an upgrade from the default, it's a powerful platform that puts you in control. Build a custom navigation menu, utilize innovative plugins, and supercharge your store with PowerUps, all tailored to align perfectly with your brand's identity.
Menu Builder: Customize Your Navigation Menu for a Tailored Shopping Experience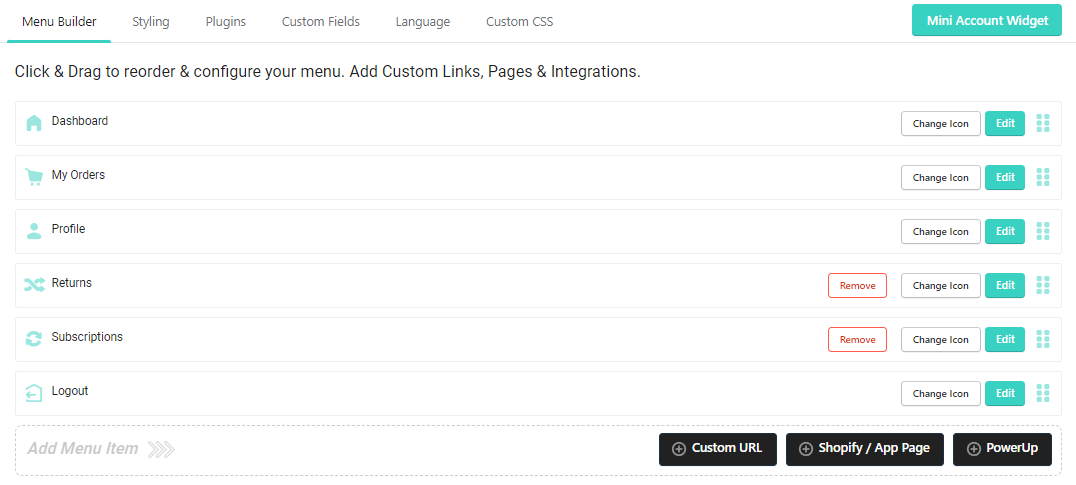 With CustomerHub's Menu Builder, merchants can easily create and customize a navigation menu that fits their unique needs. Included right out of the box are essential tabs like dashboard, orders, profile, and logout, but the real power comes in the flexibility to add more.
User-Friendly Interface: Adjusting the navigation menu to suit your store's personality is a breeze, with no technical knowledge required.
Add Additional Tabs: Extend the menu with customized tabs that can link to specific URLs, Shopify pages, or even CustomerHub's powerful PowerUps.
Personalized Touch: Tailor the menu's navigation tabs with built-in icons to choose from and descriptions that mirror your brand identity.
Unified Design: The Menu Builder ensures that all added elements blend seamlessly into the existing menu, enhancing user navigation without clashing with the site's design.
Responsive Across Devices: Create a shopping experience that resonates across all devices, with a menu that's as functional as it is aesthetically pleasing.
This feature puts the power in the merchant's hands, allowing them to craft a navigation menu that not only performs its basic function but elevates the shopping experience to something unique to their store. Whether directing customers to special promotions or highlighting specific aspects of the brand, CustomerHub's Menu Builder provides the tools needed for a standout online presence.
Plugins: Enhance Functionality In-House for a Cohesive Store Experience


CustomerHub's in-built plugins are designed to empower merchants with the ability to boost their store's functionality without relying on multiple external tools. These plugins, available right within the platform, create a seamless and harmonious experience for both merchant and customer.
Versatile Options: Choose from a selection of meticulously crafted plugins to meet the unique needs of your store. Enable optional features like a re-order button to streamline shopping, display recently viewed products to boost conversions, or use a pay now button for faster checkouts. Always-on enhancements include PowerUps to augment your store's capabilities, custom fields for tailored customer profiles, unlimited custom pages, and links through the Menu Builder, and more.


With CustomerHub's plugins, merchants have the flexibility and power to create a unique shopping experience that aligns perfectly with their brand identity and business goals.

One-Click Installation: We know that time is valuable, and our one-click installation process epitomizes efficiency. Activate or deactivate plugins in a flash, giving you the flexibility to adapt to changing needs without the technical hassle.
All-Inclusive Pricing: All of CustomerHub's plugins are included in your subscription at no extra cost. Whether current or future additions, every plugin is accessible without the worry of additional charges. This not only provides tremendous value but also ensures that you have complete access to enhance your store as you see fit.
Responsive and Compatible: CustomerHub's plugins are engineered to work across devices and browsers, ensuring that your customers receive a consistent and enjoyable experience no matter how they access your store.
Quality Support and Documentation: Have questions or need guidance? CustomerHub offers quality support and comprehensive documentation that is always being updated and added to.
CustomerHub's plugins redefine the way you connect with your customers. They are not mere extensions but vital aspects that enrich the functionality of your online store. Whether you're a newcomer seeking to build a presence or an established merchant aiming to innovate, these in-built plugins provide a comprehensive toolkit. Experience the ease of customization, add unique features, and enhance your store's capabilities with CustomerHub's plugins.
PowerUps: Supercharge Your Online Store

Elevate your online store's capabilities with CustomerHub's PowerUps, a set of specialized tools designed to enhance engagement, performance, and customization. By implementing PowerUps, merchants can create a tailored shopping experience that resonates with customers and aligns with their business goals.
Engagement Boosters: PowerUps are built to foster deeper connections between your store and your customers. Implement features like loyalty programs to reward repeat shoppers, wishlists to simplify the shopping process, and subscription models to create recurring revenue streams. These tools not only enhance the customer experience but also foster loyalty and increase lifetime value.

Customized Solutions: Every store is unique, and PowerUps understand that. Tailor the PowerUps to suit your specific business needs, allowing you to create a shopping environment that reflects your brand's values, goals, and identity. Whether you're focusing on sustainability, tech innovation, or customer service, PowerUps can be customized to reinforce your brand's unique selling points.

Ease of Integration: PowerUps are designed to work seamlessly with your existing CustomerHub features. With a user-friendly interface and comprehensive support documentation, integrating PowerUps into your store is a straightforward process. This ensures a cohesive shopping experience without disrupting the existing user journey.
CustomerHub's PowerUps are more than just add-ons; they're a powerhouse of features that enable merchants to create a dynamic, engaging, and efficient online store. By harnessing the potential of PowerUps, you can transform your online presence, turning browsers into buyers and buyers into loyal customers. Try PowerUps today and experience the true potential of your online store.
Custom Fields: Enhance Customer Profiles for Personalized Marketing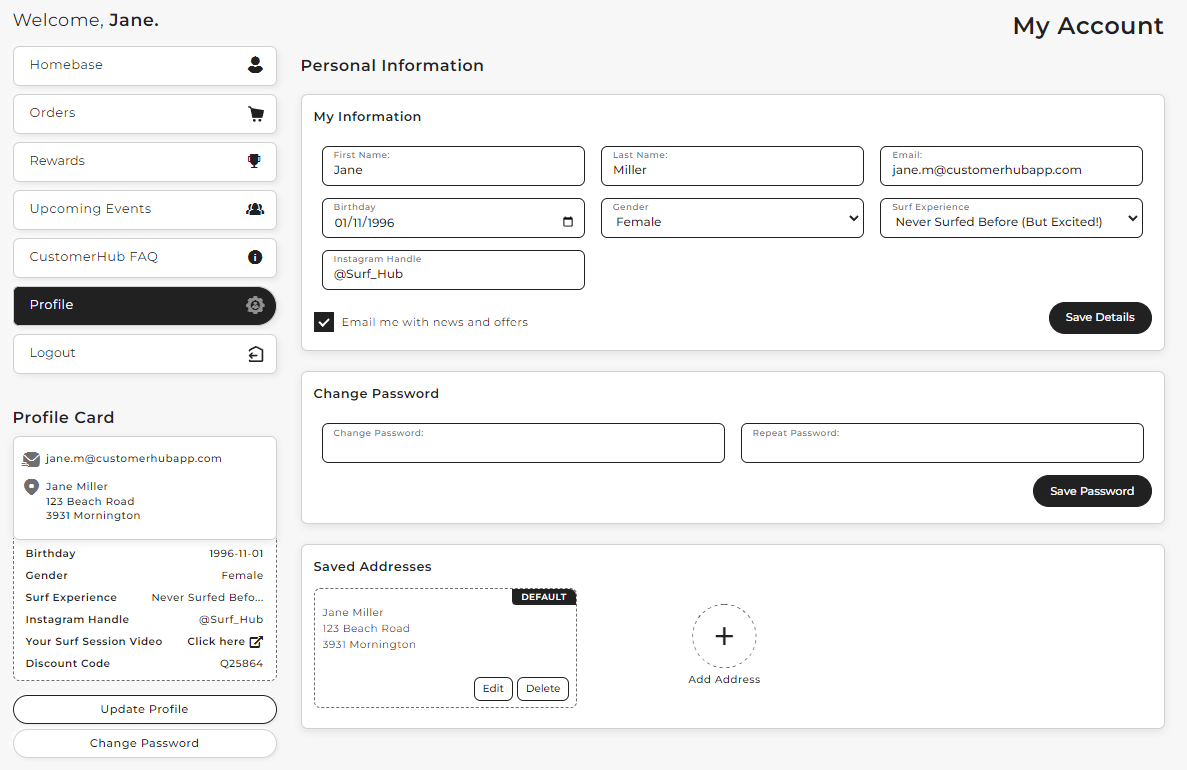 With CustomerHub's built in Custom Fields, merchants can effortlessly extend the customer profile section of the customer account page, adding new dimensions to their understanding of their audience. Go beyond the basic information of first name, last name, and email address to capture unique insights that align with your business goals and marketing strategies.
Extend Customer Profiles: Add custom fields to request additional information like birthdays, gender, preferences, or any other unique data relevant to your store. Tailor the questions to suit your needs and understand your customers on a deeper level.
Seamless Integration with Marketing Tools: Use the captured information to set up personalized marketing campaigns through apps like Klaviyo. CustomerHub's built-in Klaviyo integration makes it simple to connect and leverage this valuable customer data.
User-Friendly Interface: Creating and managing custom fields is a breeze with CustomerHub's intuitive design. Whether you're adding a single field or crafting an extensive profile, the process is straightforward and requires no technical expertise.
Enhance Customer Engagement: By understanding your customers better, you can create targeted promotions, special offers, and personalized content. This not only improves the shopping experience but also fosters loyalty and repeat business.
CustomerHub's Custom Fields are more than just additional information; they are a vital tool for merchants looking to personalize the shopping experience and create effective, targeted marketing campaigns. By implementing Custom Fields, you can unlock a richer understanding of your customers, allowing for innovation and growth. Experience the power of customization with CustomerHub's Custom Fields.